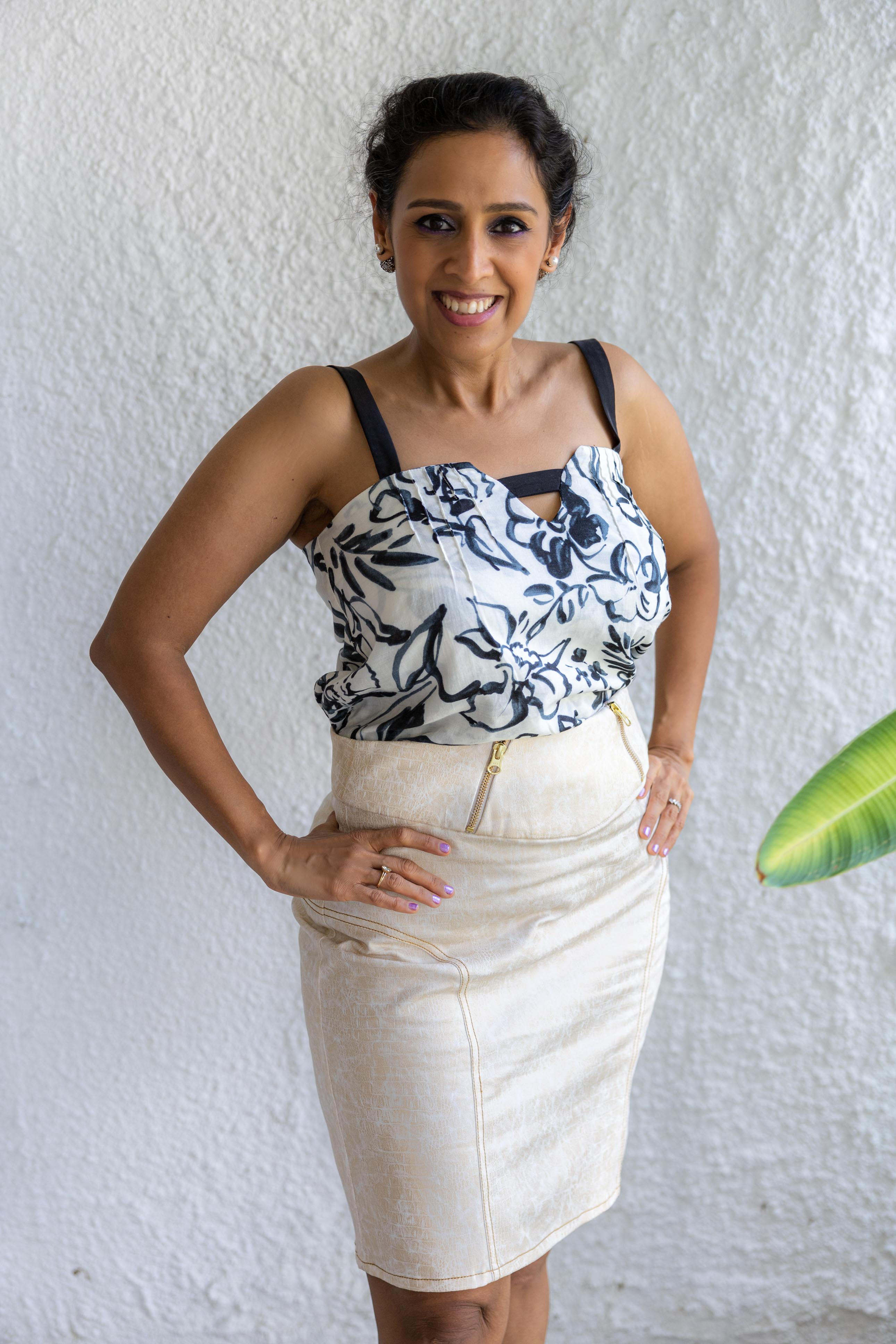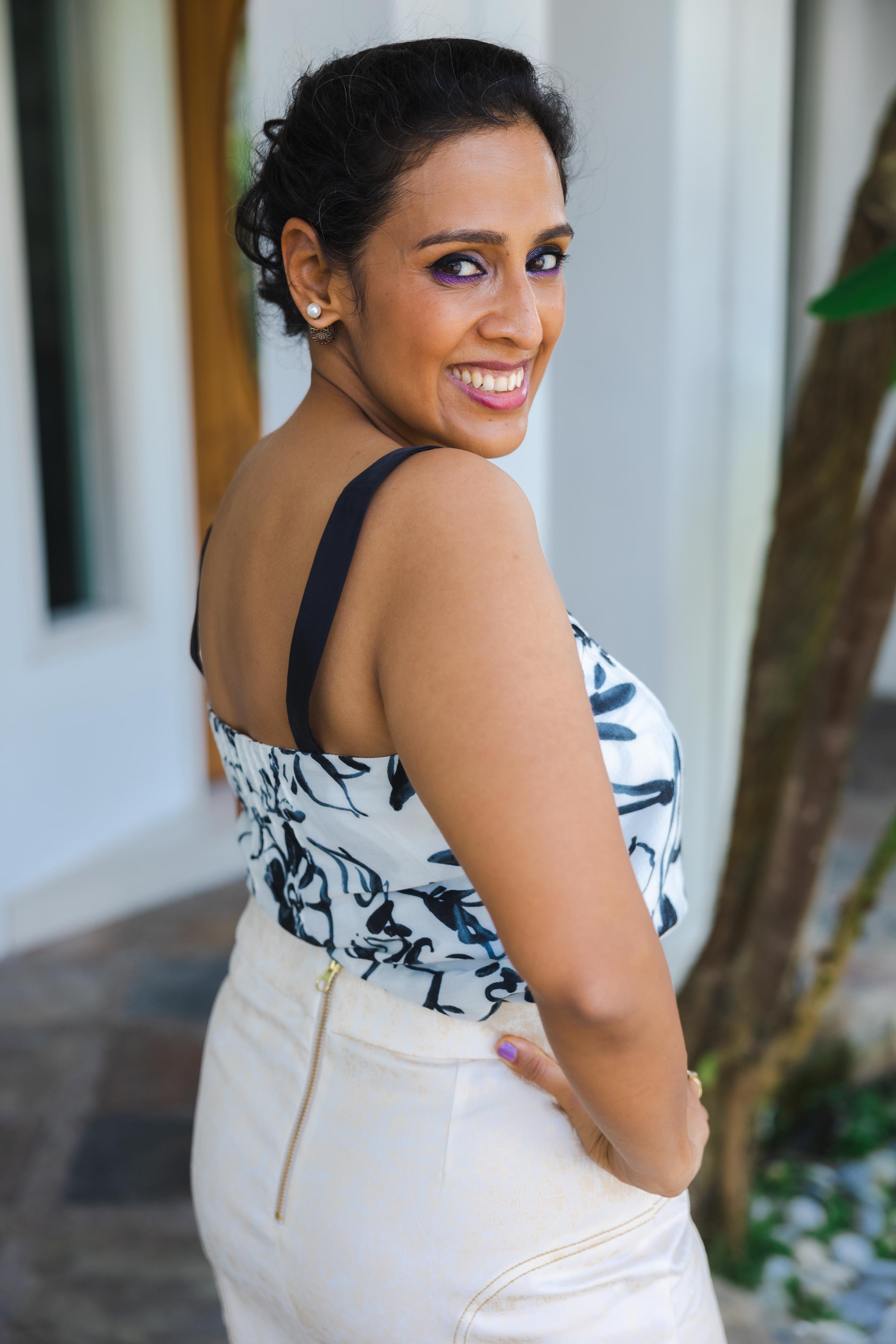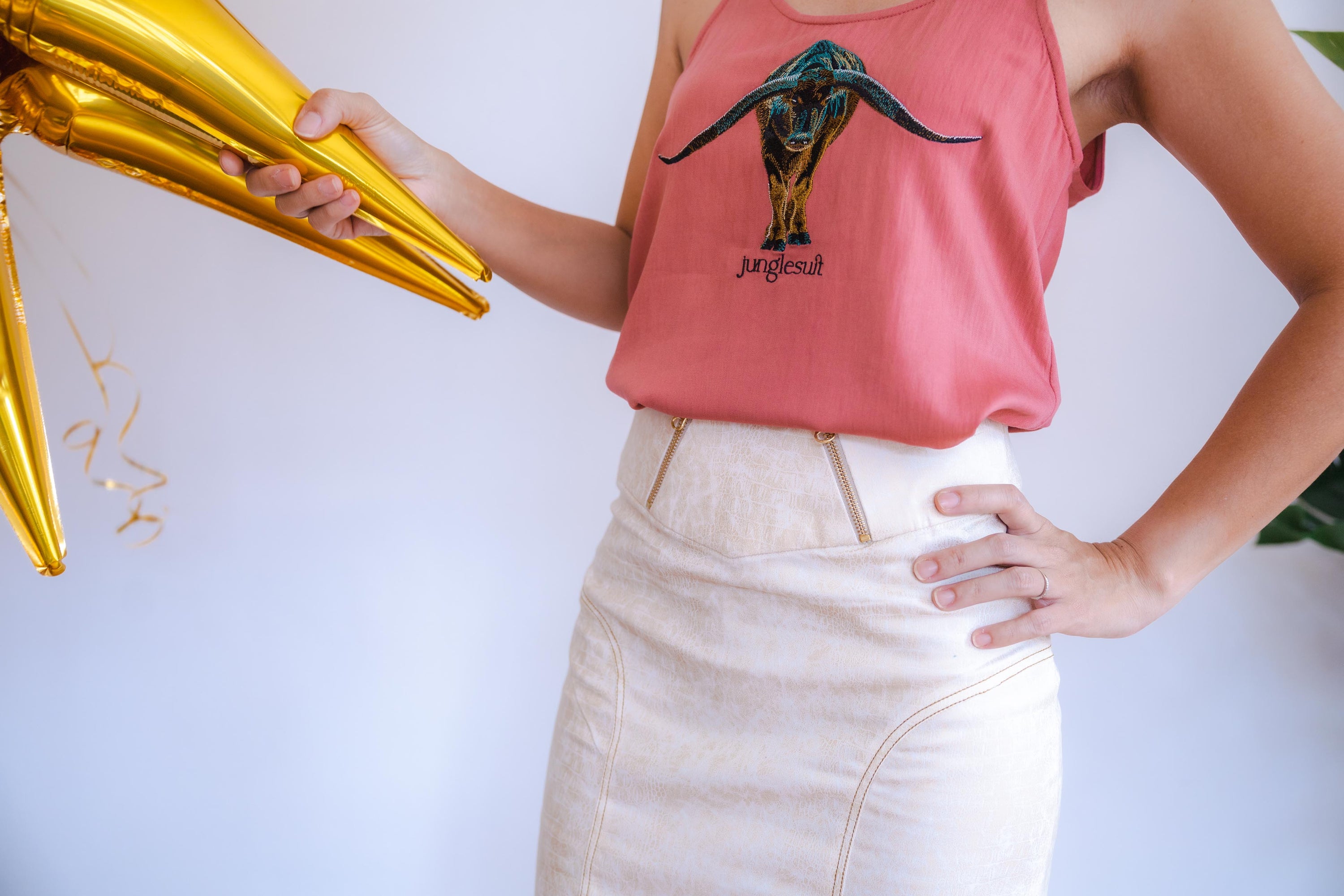 Description
Why you'll LOVE it
Choose your size
Materials
Feel fabulously put together when you dress up in this luxurious, golden tinted skirt!
- Subtle golden crocodile-skin print on ivory fabric
- High-waisted 
- Above the knee length pencil cut
- Designed for a snug fit
- Wide waistband with two decorative golden zippers
- Visible rear golden zipper opening

- Top-stitched side panels 
- Limited edition sewn in Singapore
-This same skirt also comes in our night jungle print and in dark blue denim 
- The oval side panels will add miles to your legs and refine your thighs.

- The golden crocodile-skin print and shiny gold zippers will amp up your glam-factor!
This ivory skirt sizes small. We recommend choosing one size larger than your usual size.

- Our model wearing pink "The Look buffalo top" is 160cm / 5'3" tall and is wearing size small.
- Our model in black and white "Orchard top"is 152cm / 5'0" tall and is wearing size medium.
- Our model in the video is 180cm / 5'11" tall and is wearing size medium.
Japanese Cotton / Tencel / Polyurethane
FAQs
1. Where can you deliver?
In Singapore, we deliver islandwide. For international orders, we work with FedEx, which covers 220 countries and territories. 
2. How long will it take to receive my purchase?
It takes us 1-2 working day to prepare your order and 1-10 working days for our delivery partner to hand over your junglesuit purchase to you.
3. Do you factor in duties and taxes into your shipping price?
No, we rely on our international shipping partner to clear customs for you in your home country and they will bill you separately in case duties, tariffs, customs or taxes need to be collected.
4. How much does shipping cost?
In Singapore, shipping is free for orders over $150 SGD and $5 SGD for orders below $150 SGD.
Globally, shipping is free for orders over $300 SGD, $20 SGD for orders between $150 SGD - $299 SGD, and $28 SGD for orders below $150 SGD.
5. What if the item I purchased doesn't suit me?
You can exchange it for the same item but in a different size at no additional cost, or you can receive a store credit note valid for 6 months to purchase something else.
Only the value of the returned item(s) will be applicable for your store credit note; shipping and any other costs you have already paid like duties and taxes will be excluded.
We regret that we do not offer refunds. 
6. Where can I learn more about shipping or exchanges?
Checkout our FAQ pages below for more details:
- Shipping